We are a team of four designers and friends from Czechia and Slovakia. Together, we aim to revive traditional toy manufacturing, emphasising both its artisanal and aesthetic quality. We enjoy working with natural materials. Easily recognisable by their strong geometric shapes and vibrant colours, all of our toys are made from beech wood.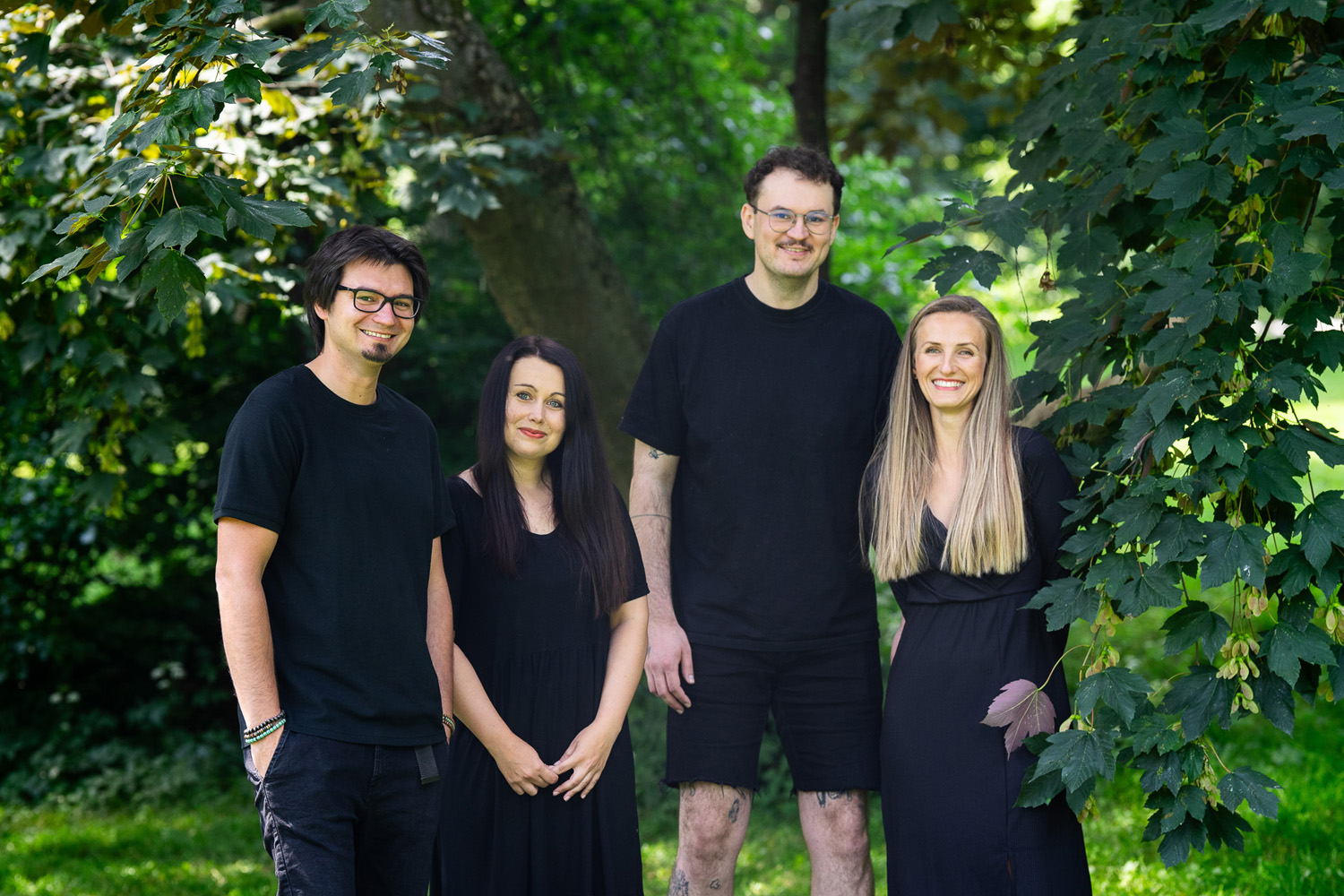 Pavla Boháčová
designer, manager
Connected by our love of design and creation, we first met during our studies at the Ladislav Sutnar Faculty of Design and Art. That's where KUTULU, our pilot series, came to life. • Combining this first concept with our respective know-hows, we founded a brand of the same name and launched it on the market in 2015. • These days, we are based in Carlsbad and Prague.
We wish for our toys to entertain and educate children all over the world. It's essential for us to make them both parent- and grandparent-friendly. • Everything is manufactured in the Czech Republic, using locally sourced material and in cooperation with local suppliers. Each piece goes through our hands many times while we're turning, cutting, drilling, grinding, painting, and gluing it. We are particular about quality handmade production but do not shy away from state-of-the-art technology. Sustainability and material origin are important to us. • All of our toys are certified and meet safety requirements specified by EU legislation. They are marked with the CE: Conformité Européenne symbol.
Where you might have seen us
DESIGNBLOK 21, Prague / October 6–10, 2021
festival mini, Prague / June 18–19, 2021
DESIGNBLOK 19, Prague / October 17–21, 2019
DESIGNBLOK 18, Prague / October 25–29, 2018
DESIGNBLOK 17, Prague / October 26–30, 2017
Hračkotéka, Prague / June 1 – August 31, 2017
LEMARKET, Prague / May 20–21, 2017
festival mini, Prague / May 12–14, 2017
festival mini, Prague / November 25–27, 2016
DESIGNBLOK 16, Prague / October 27–31, 2016
Designéři dětem, Prague / Oct. 18 – Jan. 6, 2017
World is a Playground, Brno / June 1, 2016
LEMARKET, Prague / May 21–22, 2016
Prague Design Week, Prague / May 2–8, 2016
festival mini, Prague / April 6–10, 2016
Mini Wonders, Bratislava / May 14 – Aug. 31, 2022
Soleils Noirs, Paris / March 25 – Jan. 25, 2021
Mini Wonders, Moscow / Dec. 20 – Jan. 21, 2019
Mini Wonders Shanghai / June 26 – August 11, 2019
Mini Wonders, London / Sept. 15 – Oct. 14, 2018
Mini Wonders, Jerusalem / August 6–18, 2018
Mini Wonders, Tokio / May 23 – June 22, 2018
Ambiente – the show, Frankfurt / February 9–13, 2018
Mini Wonders, Milano Design Week / April 4–21, 2017